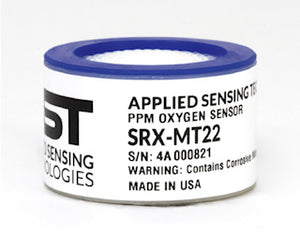 REPLACEMENT SENSOR FOR ...
Teledyne Model B-2C 
AII Model PSR-12-223
 AMI Model T-2 and GE Model OX-1
AST Model SRX-MT22 PPM O2 Sensor is a replacement to Teledyne B2C, AII PSR-12-223, AMI T-2 and GE OX-1 PPM O2 sensors. This PPM O2 sensor can measure oxygen down to 0.1 PPM level in inert atmosphere. Coiled shape anode eliminates the possibility of air bubble entrapment in typical crushed Pb granules anode thus resulting spike free oxygen signal. Sensor is designed, developed and manufactured in the USA.